South High School

In Memory
Douglas Smith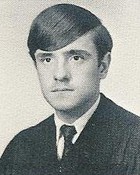 Deceased Classmate: Doug Smith
Date Of Birth: 01-09-1951
Date Deceased: 04-19-2013
Age at Death: 62
Cause of Death: Natural Causes
Classmate City: Salt Lake City
Classmate State: UT

Classmate Country: USA
Was a Veteran: No
Survived By: Siblings
Also known as the "Gnome" with his short stature and his pronounced nose.
Doug entertained us in High School with his band Shadow.
As a member of the Circle Crowd Doug was the first to buy his own car and was also the first to upgrade to nicer car.
I don't think he marched with us at graduation as he transferred to the Oquirre Academy in Senior Year.