In Memory
Arva Dover VIEW PROFILE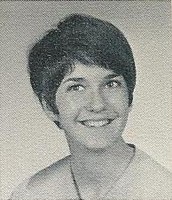 She will be missed!
Arva Lorraine Dover 2/6/52 ~ 2/25/05 Born in Salt Lake City the daughter of
Raymond M. and Gwen Golden Dover. She was raised as a daughter by Arva G. and
Morris A. Nelson. Graduated from South High School. She had a BS Degree in
English and had three years of nursing education at the U of U. She worked
four years at Holy Cross Hospital, 19 years for Grant Southwick, M.D. as
office and surgical assistant. Arva worked in Real Estate since 1993 as office
Administrator for Wardley BH & G, Mansell & Associates & Prudential Real
Estate as office manager. Arva enjoyed the outdoors including all sports,
gardening, boating and fishing. No one enjoyed life as much as Arva. She was a
gourmet cook, caterer, seamstress and organizer. There was nothing she
couldn't do. In 2003, she met the "love of her life", Doug Carpenter. Survived
by a brother, Darold Dover; aunt and uncle Katherine and Melvin Johnson; a
nephew and a niece as well as many cousins and loving friends. Preceded in
death by her parents. Funeral services will be held Monday, Mar. 7th, 12 noon,
at Larkin Mortuary (260 E. South Temple) where friends and family may call
Sunday, 6-8 p.m., and Monday one hour prior to services. Interment: Salt Lake
City Cemetery. In lieu of flowers, please make donations to the Make-a-Wish
Foundation, Utah Heart Association, or Utah Aids Foundation.
Published in the Deseret News on 3/4/2005.
Click here to see Arva's last Profile entry.