In Memory
Marsha Brother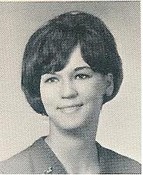 Date Deceased: 03-26-2007
Age at Death: 54
Cause of Death:
Classmate City: Orem
Classmate State: UT
Classmate Country: USA
Survived By: RD Searle (Spouse) Bea Brother (Mother) Linda Fortner (Sister) Gerold Brother (Brother) Greg Brother (Brother) South High class 67

Marsha and RD were High School sweethearts. RD met Marsha at South High School, where he was a senior and she was a junior. They were introduced to each other by mutual friends. Marsha asked RD to the Sadie Hawkins Dance, this was a dance were Girl's asked the boys. RD had no idea that Marsha was even interested in him. Of course he said yes. They continued dating, one day RD took Marsha home from school and her Mom asked if he would like to stay for dinner. You know once you feed a stray you can't get rid of them. As they continued to see each other love blossomed Marsha was truly RD's soul mate. After Marsha graduated from High School on July 17th 1970 they got married. That first year RD joined the National Guard and had to go to basic training. While RD was gone, Marsha with the help of her dad got the house they rented ready for his return. One day Marsha was helping paint and knocked a gallon of paint off of the latter and onto the carpet. Two years later RD & Marsha had a chance to move to Hawaii. This was a big move for Marsha; she had never been far from home. They had to depend on each other for everything. They became more than husband and wife they were best friends. Marsha after a couple of months became bored; the glass company RD worked for needed a secretary. Marsha took on the job and with a little training she settled in, she was a natural. She was not satisfied with just answering phones, taking orders, and scheduling work. Soon Marsha was doing payroll, billing, collections, statements, and all the accounting. While in Hawaii Marsha loved the outdoors she surfed, snorkeled, biked, and love to explorer the Islands. After two years they returned to Utah, and RD was made manger of the Provo location of A1 Quality Glass. Marsha decided not to work but after a few months she got bored again, and landed a position with another glass shop. After a few years A1 needed an office manager and offered it to Marsha, RD and Marsha were working together again. Some people can not work with their spouses, but they made it look easy. While working at A1 Quality Glass Marsha and RD had a chance to travel the World, going to 12 countries in 5 years from China to England. Marsha stood on the Great Wall and toured the Forbidden City in China. Went up the Eiffel Tower in Paris and made friends with a Beefeater at the Tower of London in England. They liked England so much they went twice. Marsha loved to travel and was not afraid to try something new. A1 Quality Glass needed Marsha in Salt Lake at their main office. They wanted her to do the collections for all of their divisions. While she was with A1 she belonged to Executive Woman's International one year she was in charge of the scholarship committee and had to select 3 students from several that had applied to receive scholarships Marsha got to present the scholarships and she said it was the most rewarding thing she ever done. Marsha enjoyed her work at A1, but all things end and A1 was bought out by Safelite Auto Glass. Marsha found herself in the Midvale branch as a customer service rep. RD left Safelite and joined forces with Brian's Auto Glass and brought Marsha Back to help. She also did some work for Maaco. After a couple of years RD split with Brian's Auto Glass and she move completely to Maaco and stayed there until her health forced her to quit. After A1, because Marsha liked to travel they went on three cruises with various friends. Marsha enjoyed people and liked to joke around with them. Cruising was Marsha favorite way to travel, you unpacked once and yet you move to a new location to explorer every day. On one cruise Marsha got to swim with Dolphins plus on cruises she got to snorkel again. One cruise was not what quite a normal one Marsha and RD floated down the Colorado from Moab to Hite on Lake Powel, in-between they ran the rapids in Cataract Canyon. She loved the outdoors; she had her own snowmobile, and her own wave runner. Marsha would go exploring with RD in their Bronco, and she would drive some of the hardest obstacles in Moab. One time they were 4 wheeling up Pritchet Canyon, one the toughest trails, and got to an obstacle called rocker knocker. Here you put one wheel on a ledge and slide the vehicle side ways till you hit a wall and give it the gas and climb up the rest of the ledges. This is done while being off camber almost rolling over, RD did not want to do this, but Marsha had watched an other woman do it in a Jeep, and said she could do it and so she did. She didn't know that the Jeep was longer and better equipped which made it easier. RD and Marsha belonged to the Lone Peak 4 Wheelers 4 wheel drive club, in 1998 RD was elected President and Marsha chipped in to help and made it a very successful year. Marsha liked to campout but not rough it, RD would bring a shower with them. Most of the time they stayed in the motor home, which Marsha loving called Uncle Bob. Marsha did not like everything RD did. One time he took her deer hunting with me (Don) and my wife Judy and I walked her legs off, and she told RD he could go hunting anytime he wanted, but do not ask her to go. Marsha's favorite holiday was Halloween. She would carve several pumpkins; decorate the yard, the house inside and out, and the dog. She even had a Halloween Village before it was fashionable. Marsha would dress up in costume for work. When the kids would come around for treats she had to see each one and ask what they were. She gave them lots of treats, and they loved coming to our house. Marsha was disappointed that in later years kids didn't trick and treat any more. Christmas was an other big holiday Marsha had a large village and spent days putting it together. An other thing Marsha enjoyed was playing Bunco, her friend Wendy got her started. She would volunteer to have it at our house in October, because of Halloween. Though Bonco she made many friends, and had a lot of fun. Marsha did not like to drive at night so RD would take her to Salt Lake, and wait for her, then return home. When Marsha was little her parents had dogs they raised long hair Dachshunds. After she was married her mom's postman rescued a Dachshund and gave her to Marsha. They named her Schnitzel when they went to Hawaii Schnitzel had to stay behind with Marsha's mom. Schnitzel died before they returned Marsha's next dog was a Dalmatian. Marsha always wanted a Dalmatian and one day they were visiting a friend, and in the next yard was a Dalmatian chained to dog house. Marsha mention the dog and her friend said you can have it, if you want. Marsha named it Spotty. Her next dog another Dalmatian, was a daughter of spotty so she named her Dotter. After Spotty and Dotter died Marsha did not get another dog for few years. Then One day another friend of Marsha's came to see her holding a Dachshund puppy. Marsha's heart melted she went with her friend and bought Minnie, Marsh's last dog. Marsha's dogs were her children.